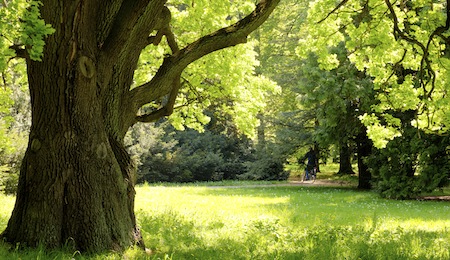 With summer fast approaching, we know that you are already looking for the best ways to beat the insane Texas heat. Summers in Texas can be unbearable, but there is a simple remedy. Plant more trees! We have compiled a list of the top five best trees to plant to get out of the burning Texas heat.
Why are shade trees important?
Shade trees cannot only give you a spot to cool off during Texas heat waves, but it can protect the integrity of your home. Strategically placing the following trees in your yard can help:
Protect paint
Cool down the internal temperature
Transform your yard
Add value to your property
As you know, Texas is hot. Here is a list of our top five favorite Texas-tough trees that are perfect for your home:
Cedar Elm
Cedar Elm, formally known as Ulmus Crassifolia, is a medium to large sized tree that forms into an oval-rounded covering. The tree can grow as tall as 70 feet high and 60 feet wide. The tree produces dark green leaves that change color and fall in late winter. The tree also produces a small fruit called Samara. This tree is perfect for the summer months because it is highly drought intolerant.
Shumard Red Oak
This beautiful red-leafed tree will not only provide you with shade, but with a gorgeous view. The tree can grow as tall as 115 feet and 59 feet wide. The large leaves change from dark green to a brown and reddish hue in the fall. Sometimes the leaves will also have a tint of yellow, giving its overall appearance the look of a sunset.

The tree grows an open canopy with thick branches that support it. Hang a hammock or have a picnic in the massive shade this tree will produce.

Chinese Pistache
The small leafed tree that is Chinese Pistache can grow up to 65 feet tall and produce a large shaded area for your yard. This tree can handle harsh conditions, including poor quality soils and harsh winds. What makes this tree so special is the color it transforms into in the fall. The leaves turn from a dark olive green to a flaming red.
Monterrey Oak
If you are looking for a medium to large oak tree that is tolerant to Oak Wilt, look no further than the Monterrey Oak. Formally known as Mexican White Oak, this tree can grow up to 40 feet into the perfect triangle shaped canopy. This tree thrives on extra sunlight, which is why it is perfect for Texas summer months. The leaves are a bright and shiny green and transform to a soft shade of yellow in the fall.
Live Oak
Live oak trees are short and have low hanging or weeping branches. The romantic tree can create the perfect spot to nestle up to in the hot summer day to read a book or enjoy some sweet tea. Why is it called live oak? This tree stays green throughout the entire year.
Proper tree planting is key to a long and healthy life for your tree. Trees last lifetimes if they are properly maintained and planted in an area where they can thrive the most. Hire an expert for your next shade tree planting venture. Let your entire family enjoy the function and beauty of your tree for a lifetime.